Midlands Gives – A Giving Day and a Year-Round Resource
December 13, 2022
Nonprofits can register for Midlands Gives starting December 1, the annual 18-hour online giving challenge and online giving platform hosted by Central Carolina Community Foundation. Midlands Gives Day will take place May 2, 2023, and nonprofits can register through February 28, 2023.
Midlands Gives has raised $19.7 million for nonprofits since its inception in 2014. As the initiative turns 10, the day of giving will serve as a celebration of philanthropy filled with prizes and fund matching. The annual event brings the Midlands together to raise money and awareness for local nonprofits to amplify their impact, provide vital public services and improve the quality of life in the community.
The Midlands Gives website also serves as a year-round online platform that gives nonprofits the opportunity to connect with donors who have a passion for their cause. It is a great resource that supports organizations in showcasing their impact and educating community members who are interested in donating.
The Midlands Gives online platform consists of more than 540 organizations, one of them being the Cola Town Bike Collective. The local nonprofit works to provide low to no cost bikes and repairs for those who are low income and do not have reliable transportation.
Cola Town Bike Collective has participated in Midlands Gives since 2018 and relies on the initiative to fund a large portion of its current budget. In 2021, the nonprofit had the funds to hire Scott Nuelken, their first-ever Executive Director, thanks to Midlands Gives.
"There's a lot that goes along with Midlands Gives. I think if nonprofits are not participating or looking into what Midlands Gives and CCCF offers they are leaving a lot on the table," said Nuelken.
The Community Foundation offers trainings and strategic materials that help nonprofits to promote themselves and their missions effectively.
"We had a whole resource toolkit that was a part of Midlands Gives and they really encouraged nonprofits to take advantage of the Facebook seminars leading up to it, the virtual resources and the resources on the Midlands Gives website which helped with how to better fundraise and reach out to people," said Nuelken.
In 2021, Cola Town Bike Collective raised a little more than $11,000 through Midlands Gives Day. The nonprofit's prioritization of Midlands Gives and use of CCCF resources allows them to successfully increase the amount they have raised in years past.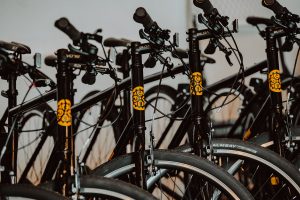 "Midlands Gives is a lot bigger than just the one day, especially for nonprofits like us that are small and didn't really know what we were doing when we were first getting involved," said Nuelken.
The nonprofit sees Midlands Gives as such a critical part of their annual budget that they plan their fundraisers around it. They balance fundraisers to avoid any window within four months before or after Midlands Gives to focus on asking the community for funds just during the day of giving.
"I mean for years and years it was quite literally our largest annual fundraiser and in the early days that funded the whole organization for a year, just Midlands Gives," said Nuelken. "It has always been a windfall event for us."
To learn more about Midlands Gives 2023, click here.